VILLAMERICA
Szuper kikapcsolódási helyszín kicsiknek és nagyoknak egyaránt
Welcome to the site of Villamerica!
We opened our family run business in 2017 in the heart of Miskolctapolca. We operate with 11 rooms, most of them are installed with hydro-massage bathtub and all of them are equipped with air-conditioner for you to cool off on a hot summer day. There is a small wellness department in our establishment with a jacuzzi and a sauna which can be used by our guests for free. Just under the pension you can find our Steakhouse where we mainly serve beef steaks, but we have various other food as well. Our guest-friendly, helpful staff members will guide you through the steak world and ! help you ! select your food which will be cooked with great care by our maximalist chefs. Our goal is to satisfy all of our customers needs and exceed everyone's expectations. Our establishment is a perfect place to relax for both the young and the senior. We are totally pet friendly, therefore we are happy to accommodate socialized, clean pets.
Nearby
Bath
The healing Cave Bath awaits it's guests since 1837, but further 2 plage also available in 10 km a ratio.
Gokart
We recommend the nearby Gokart track for the brave and more adventurous guests. You can race each other or the time in rapid electric vehicles.
Outside programs
Adventure Park, Air Line, Summer Bob, Hiking, Local Attractions
Airconditioned
All the rooms are fully airconditioned.


Wi-Fi
Free WiFi provided in every room.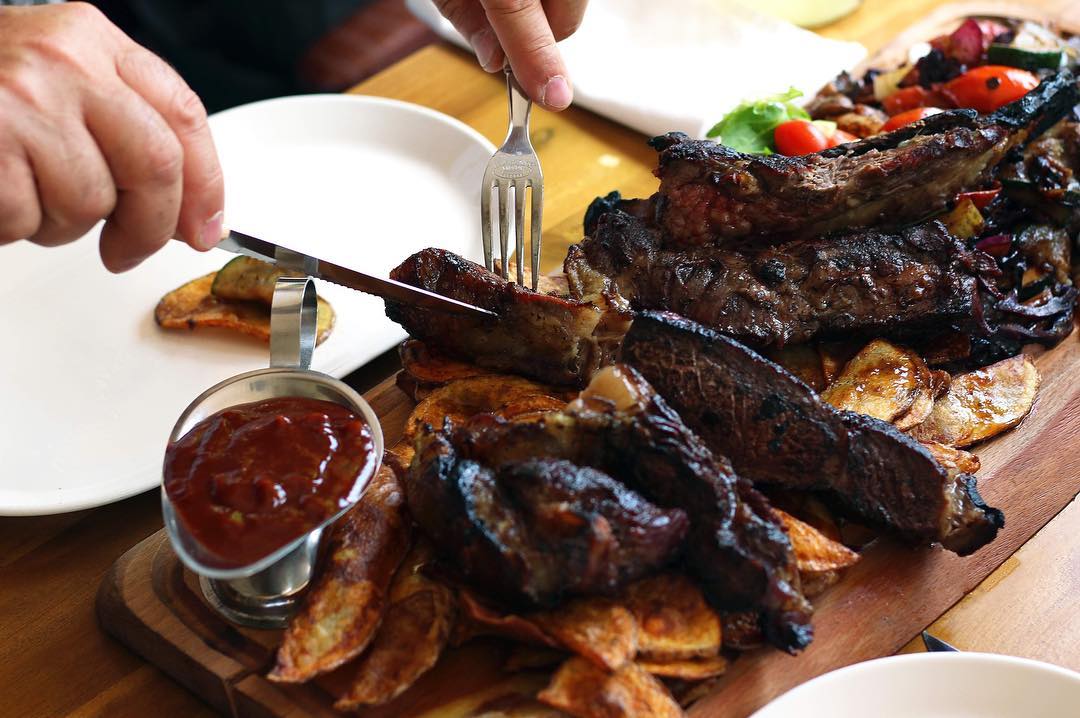 Steakhouse
Unique restaurant in Miskolc with exceptional steaks.
Jacuzzi
Hop-in to our Jacuzzi for the total refreshment.>
Sauna
Both Infra and Finnish Sauna provided for pleasant relaxing.
Parking
Inside parking spaces for free. Limited roofed spots also available.
Betti & Robi
You will be richer with an unforgettable experience with your loved one. If you want to relax, this place is highly recommended! Super room, nice staff, exceptional service.



K. Loretta
The food has divine taste and big portions. The staff is very helpful and friendly. The room also fulfilled our expectations. I can only recommend it for everybody who want to relax in Miskolctapolca!


B. Dávid
Modern, well-equipped pension. The staff is really nice and helpful. There are a lot of opportunities nearby to have fun, we never felt bored on our 3 day vacation. Sadly we couldn't try the restaurant, but we're sure we will come back!
Rólunk
2017-ben nyitottuk meg kapuit Miskolctapolca szívében a családias kis panziónknak. Jelenleg 11 szobával rendelkezünk, melynek többségében hidromasszázsos káddal kényeztethetjük magunkat, és a nyári melegben a klímaberendezések gondoskodnak hűsölésünkről. Igyekszünk vendégeink igényeit maximálisan kielégíteni, ennek érdekében folyamatosan bővítjük szolgáltatásainkat…